---
About Cllr Sue Oliver
First elected in 2002, Sue was Portfolio Holder for Children's Social Care & Lead Member for Children's Services until she stood down in May 2015 to concentrate on Cauldwell ward. She serves on the General Purposes Committee and on the Audit & Standards Committee.
She and Randolph are always out and about in Cauldwell dealing with residents' issues and seeking improvements to the area.
---
About Cllr Randolph Charles
Randolph has been a Councillor for Cauldwell Ward since 1999.
He is Chair of the Environment & Sustainable Communities Overview & Scrutiny Committee, and also serves on the Budget Scrutiny Committee.
---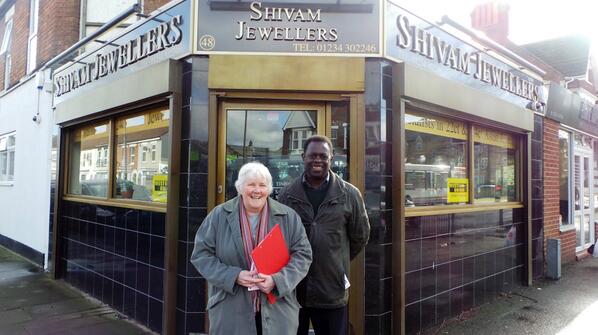 Cauldwell
Located to the South West of Bedford town centre, Cauldwell Ward includes Ampthill Road, Elstow Road and Mile Road and the streets in the surrounding areas. It's an ethnically diverse area, with a statistically younger population than the rest of Bedford Borough.
Cauldwell Lower School is situated in Edward Road. The former Raleigh Lower School is now a training centre and Family Centre.